Computing and Information Technology
The mission of Howard University School of Law Information Technology is to provide quality technical support with respect to innovative methods to enhance technological capabilities that will enable faculty, students, and staff access to information and resources.
Howard University School of Law Information Technology provides a unique mixture of expertise. We have undergone numerous technology upgrades over the past year. Our network has been rewired to support fiber optic throughout the Law School and the Law Library. Technical capabilities include two smart classrooms, state of the art training rooms and a fully wireless campus.
HUSL have put together a unique blend of Information Technology professionals to continuously seek and improve new and innovative technical approaches to networking and computing that will enhance researching capabilities for the faculty, students, and staff. We also seek to provide support and empower students with a technical advantage in all legal research.
We welcome you to browse through our website and please don't hesitate to call for technical assistance or advice.
 
IT-Howard University Law School Help Desk
Printer Instructions
Instructions for Direct IP Printing
 
How to add your computer to the Find Me Que for Printing
 
Type \\apinfpcpsv1 into your computer's search bar, and hit enter. The following should pop up: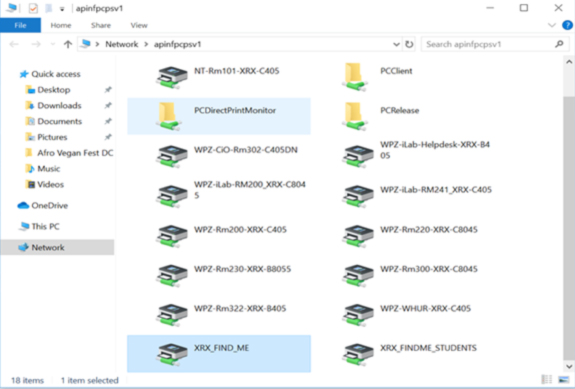 Right click on "XRX_FIND_ME" and press connect. You are now connected to the Find Me Que.
Make sure to select "XRX_FIND_ME" as your printer when you're getting ready to print a document. Please forward this to all faculty and staff that are working in your department.
Xerox Document 1
Xerox Document 2
Current Students
AV/Help Desk/Web and Monitor Requests
As we begin a new academic year, please be mindful to send all requests to lawschoolhelp@law.howard.edu.
If you wish to call, please call extension @68013.
Please DO NOT send requests directly to my staff or myself as it presents a single point of failure.  The lawschoolhelp@law.howard.edu account is monitored for requests and events. All incoming calls and e-mails are scheduled and assigned appropriately.
webmonitorrequest@law.howard.edu is for website and digital signage only
This process will help expedite your request. Thank you for your cooperation and understanding!
Accessing Office 365
Bison Web
Downloads
E-Mail Etiquette
Emergency One-Call Notification
FAQs
FREE Anti-virus software for MAC/PC
Free Students Microsoft Office 365
Google configuration for mobile devices
HelpDesk Feedback Form
Instructions To Access Webmail
Law Student Google Mail
LexisNexis
Message on Illegal Downloads
One-Call Emergency Notification
Recommended Laptop Specifications
Student IT Questionnaire
Video Upload Instructions
Web email Access
Westlaw
WIFI - How to connect to HU-WIFI - Mac
WIFI - How to connect to HU-WIFI - Windows 10 Pro
Incoming Students
Recommended Laptop Specifications
Faculty & Staff
Resetting Your Password
Step 1: Register for password registration (Enrollment Attachment): https://aka.ms/ssprsetup
Step 2: Reset your password (Account Reset): http://passwordreset.howard.edu

AV/Help Desk/Web and Monitor Requests
Contact Webmaster
Download FREE Anti-virus software for MAC/PC
E-Mail Etiquette
Faculty, Staff IT Questionnaire
FREE Anti-virus software for MAC/PC
Google configuration for mobile devices
HelpDesk Feedback Form
Message on Illegal Downloads
Office 365 for Faculty & Staff
One-Call Emergency Notification
Web email Access
Policies and Procedures
Policies and Procedures
Web site Policy and Guidelines
Howard University Email Management Policy