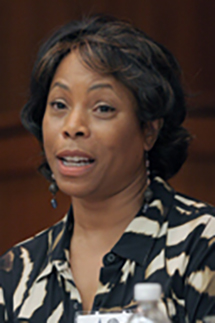 Professor of Law
J.D., University of California, Los Angeles
B.S., Howard University cum laude
Biography
Lenese Herbert teaches Evidence, Criminal Procedure (Investigation and Adjudication), Criminal Law, Social Media and the Law, and Administrative Law.  Prior to teaching, she practiced as an Assistant U.S. Attorney for the District of Columbia in both the Criminal and Civil Divisions, and served as agency counsel for the U.S. Commodity Futures Trading Commission and U.S. Department of Transportation.
 A graduate of UCLA School of Law, Professor Herbert co-authors CONSTITUTIONAL CRIMINAL PROCEDURE, a problem-based casebook adopted by a number of law schools across the U.S.  Her scholarly work has appeared in law reviews and journals;  it is also cited in state and federal court pleadings, including amicus briefs filed in the U.S. Supreme Court's GPS tracking decision, U.S. v. Jones.
 Her media appearances include BBC World, The Washington Post, Voice of America, Al-Jazeera English, NBC News Channel 4 (Washington, DC), WTTG Fox 5 (Washington, DC).  Professor Herbert has also co-authored Lexis Nexis Skills and Values: Criminal Law.  On Twitter, she can be found @HowNowHerbert, heavily re-tweeting links and other content related to criminal justice, policing, social media, and SCOTUS.
Publications
Casebook:  Taslitz, Herbert, and Jones, CONSTITUTIONAL CRIMINAL PROCEDURE (Sixth Edition, West Academic 2021)
Now available:  Constitutional Criminal Procedure (6th ed.) via West Academic and Amazon
Lenese Herbert, In Unanimous Fourth Amendment Ruling, a Reminder That There Is, In Fact, No Place Like Home, SCOTUSblog (May. 18, 2021, 8:15 PM),https://www.scotusblog.com/2021/05/in-unanimous-fourth-amendment-ruling-a-reminder-that-there-is-in-fact-no-place-like-home/
Lenese Herbert, "Possible Cause": Court Seems Poised to Allow Warrantless Community Caretaking Entries into the Home, SCOTUSblog (Mar. 28, 2021, 5:56 PM),
https://www.scotusblog.com/2021/03/possible-cause-court-seems-poised-to-allow-warrantless-community-caretaking-entries-into-the-home/
Lenese Herbert, There's No Place Like Home?, SCOTUSblog (Mar. 22, 2021, 3:14 PM),
https://www.scotusblog.com/2021/03/theres-no-place-like-home/
Presently Relevant Publications
Policing, Protestors, and Discretion: Why Properly Policing a Protest Matters, Fordham Urban Law Journal 
How Occupy's Race-Based Privilege May Improve Fourth Amendment Jurisprudence for All, Seattle University Law Review
Bete Noire: How Race-Based Policing Threatens National Security, Michigan Journal of Race and Law
Can't You See What I'm Saying? Making Expressive Conduct a Crime in High-Crime Areas, Georgetown. J. Poverty Law & Policy
In Arcadia Ego: A Perspective on Black Prosecutors' Loyalty Within the American Criminal Justice System, Howard Law Journal 
Media Appearances
- AP News, "Charged in Jan. 6 Riot? Yes, but Prison May Be Another Story," (May 2021).

- PBS NewsHour, "3 Things That Led to Chauvin's Conviction, and What Experts Say Is Needed for More Police Accountability," (April 2021). 
-   NPR/WBUR, "Breonna Taylor: Further Questions about No-Knock Warrants" (Sept. 2020).
-   BBC News, "The Racially Charged History of 911 Calls" (May 2020).
-   Brut.Media America, "Living While Black: What the Central Park Incident Reveals" (May 2020).
-   Current Affair Magazine, "The Significance of J20" (Jan. 2019).
-   BBC News, "What Americans Get Wrong About 911" (Aug. 2018). 
-   C-SPAN, 2018 Supreme Court Review, https://www.c-span.org/video/?c4738040/professor-herbert-carpenter-case and https://www.c-span.org/video/?447684-1/legal-experts-discuss-major-supreme-court-decisions-2017
-  The Washington Post, "Implicit Bias Training Seeks to Counter Hidden Prejudice in Law Enforcement"
-   Voice of America News, "US Justice Department to Probe Chicago Police Force" 
-  Al-Jazeera English, "Protests In US Over Chokehold Death Case" 
-   NBC 4, Washington, DC, "Eric Garner: Chokehold Death"